Aaron Shapiro over at
Practically Everyday
(a great site, if you have not seen it go take a peek) has recently made the argument that the flipper is the superior deployment method for folding knives. I am not sure one way or another as I am still pretty partial to the Spyderhole, but it is clear that flippers are better than thumb studs and thumb disks. Some companies, like Kershaw and CRKT, have jumped on the flipper wagon a long time ago. Others like Spyderco and Benchmade have taken their good old time. With Spyderco you can understand why, but with Benchmade it was a mystery. They can't have any design aesthetic or organizational loyalty to the thumb stud. They didn't invent it. It is clearly inferior to other methods. And hell they have tried the thumb hole with some success. It was a puzzle then why they had no flippers in their line up.
Puzzle solved: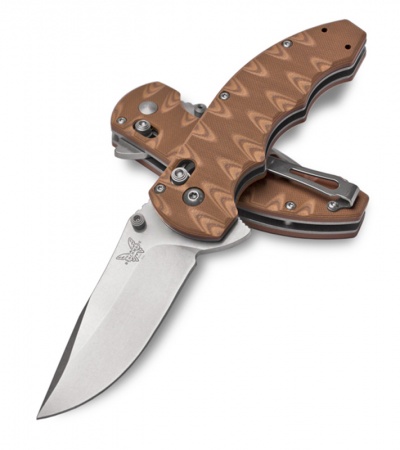 The specs are something of a pleasant surprise. First, the Axis lock. I have long wondered whether it is possible to do an Axis lock and a flipper at the same time, given how the Axis lock works. Well. it seems to me that Benchmade figured it out. Locking mechanism--win number 1. Now take a look at the pocket clip. Do you see it? The wonderful over the top, deep carry clip from the
Benchmade Emissary
. Yipee! Win number 2. Finally look at the blade shape. Ah...the comfortable, the familiar, the effective, a nice drop point with a swedge and plenty of belly. Win number 3. The steel is a steel I like, Benchmade's 154CM and the handle is grippy looking. The only negative I can see is the silly, unnecessarily busy pattern in the G10. But hey, you can't get everything you want--after all this is a
Mini Grip
flipper in essence. That's right, the blade length is a nice 3 inches (3.05" for the technically minded). One big hit--the weight. This thing comes in at a brawny 4.85 ounces. If you can take the weight though, everything else looks sweet. The price seems to be around $150, but because they have not been released yet, I am not sure. Here is a link to Blade HQ, where you can find the 300SN up for pre-order, and all proceeds benefit the site when you purchase things through this link:
Blade HQ
I'll see if I can get a review sample, but from the specs alone this looks good. The only caveat I would throw out there is this--flippers are only as good as the flipping action, something that requires precision work and skillful design. Benchmade can surely do both of these things, but we won't know how good the knife and the flipper are until someone actually gets one in their hand. Either way, this has the potential to be a big winner for knife knuts and Benchmade.