In the pantheon of collectible production knives, few stand out over the last twenty years like the Spyderco Jess Horn. Here is a great shot of the plain edge version from Arizona Custom Knives.
This small knife, one of two or three without a Spyderhole (the Ulu and a Seki collaboration being the others), was finished to a level that made it more of a custom blade than a production model. Its fit and finish, maker, and unique features coupled with a small number made and a high initial price tag, made it a chase item almost immediately. To this day, it routinely sells for as much or more than its initial price tag. It is the King of Spyderco Collectibles.
The Queen has to be the Michael Walker produced by Swiss cutler Klotzli.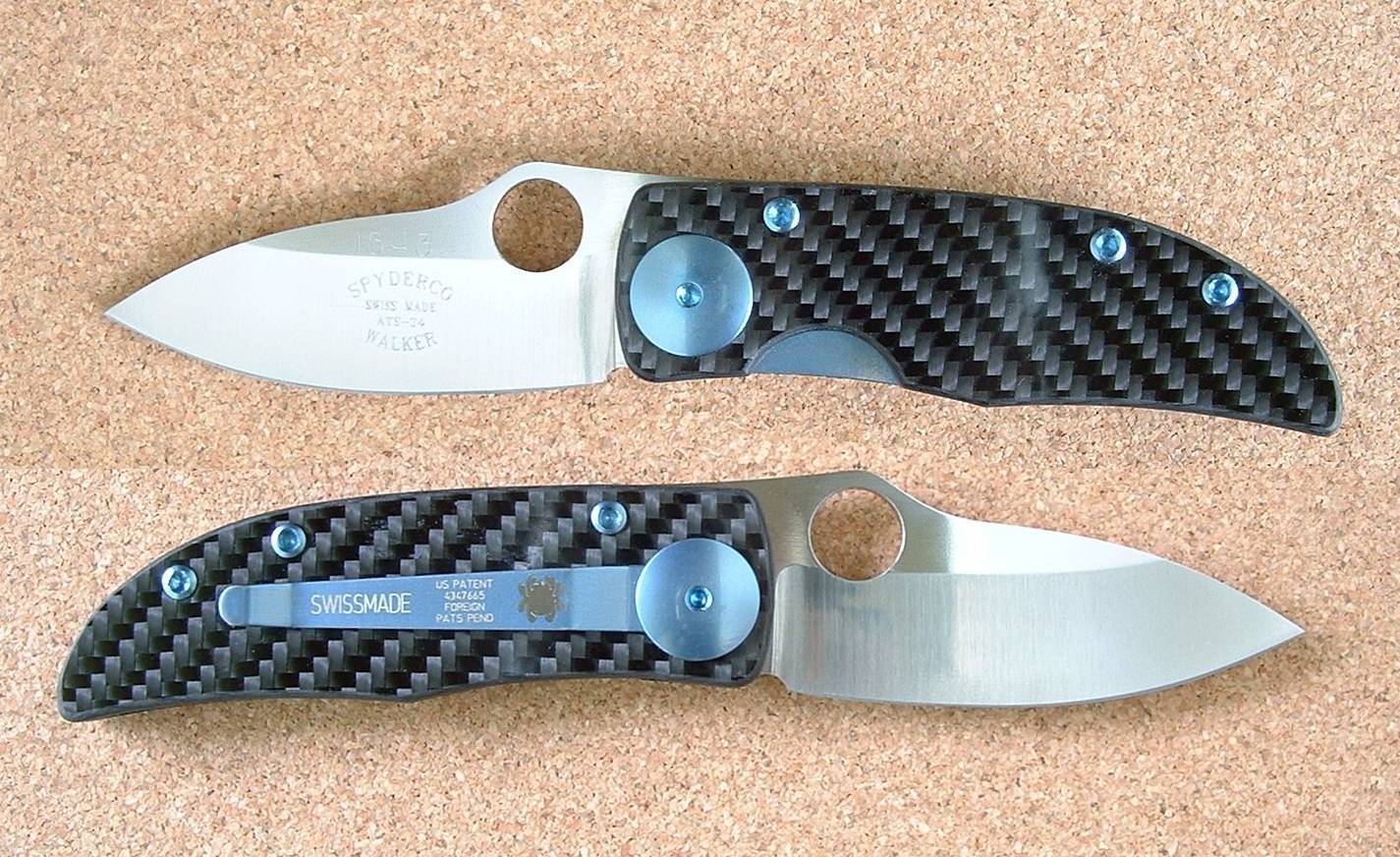 Like the Jess Horn it had a level of fit and finish that exceeded that found on normal production knives. It also had a high initial price tag and was made in small numbers. It, like the Horn model, routinely sells for more than it cost. Both knives can fetch $750-900 on the secondary market and truly great versions of the Jess Horn sell for more than a $1000.
There is another, recently produced blade that follows these same trends that I think has the chance to be the next Jess Horn Spyderco in terms of appreciation and collectibility. That knife is:
This picture is from JerzeeDevils and appears to be taken by Chris MacLellan of
Mac's Customs
. The Tilt is a truly insane knife to come out of a production company, especially one as large as Kershaw. It has a design, level of fit and finish, and a number of new and innovative features that makes it compare favorably to custom blades, despite its more humble beginnings. It also has that crucial element that turns a good knife into a collectible--a small production run and a high sticker price. Add on to that the initial delays in producing the Tilt (difficulty with the sintering process) and it has all of the makings of a super high priced collectible. There are two versions, a black coated version and a stonewash version, like shown above.
But the Tilt is more than just a collectible-because-its-rare collectible. This is a knife that exudes design innovation. The knife incorporates the IKBS-like bearing pivot system called KVT, which stands for Kershaw Velocity Technology (see
here
for more). This allows the Tilt to have an amazingly smooth deployment, despite the 4 inch blade. That alone would be pretty cool, but it doesn't end there. The Tilt is a framelock, but this is no ordinary framelock. Instead, the lock stop is created because the lockbar is cut at an angle, instead of perpendicular to the handle slab. As the lockbar extends past the point of disengagement, it catches on the angled edge of the handle slab, preventing over extension. It is an elegant and amazing design--one that accomplishes the task with less parts, less cost, and less clutter than the Hinderer or Warren Thomas designs. The knife also has a sculpted, one piece pocket clip, something found usually only on customs. Then there are the marketing bullet points: carbon fiber handle, titanium lock side, titanium framelock, flipper deployment...It goes on and on until you get to the steel--
Vanax 75
, a low carbon, high hardness steel from Bohler Uddeholm. This is a less frequently used steel, but the data sheets indicate that it should be as tough as Elmax with better stain resistance, overall a very good combination. It, like virtually all of the other parts of the Tilt, is rare, expensive, and hard to come by.
There are some Tilts still out there at reasonable, near retail prices, which was $350. I found one a JerzeeDevil's B/S/T last week and a few over on Blade Forums. The prices on eBay, however, have started to climb rapidly. As of the writing of this post (10/3/2012) the cheapest Tilt was $404. Others are around the $500 mark with days to go on the auction. There have been some issues with unusual lockbar/lockface interactions and a few other small glitches, but by in large folks have been enamored with their Tilts.
Here
is an excellent review by DarkChild 57 that shows off a lot of the features of the Tilt including the slanted lockbar.
I am not a betting man or a speculator, but if I was, this would be a knife I'd target. It has all the makings of a super high priced collectible and it happens to be an awesome knife to boot.
Finally, search for "tilt" (just "tilt" not "Kershaw Tilt")in Google for a small surprise.