Every once in a while a collaboration between custom knife maker and production company takes the entire industry by storm. Well, in 2011,
Zero Tolerance
(ZT, a subset of Kai cutlery) teamed up with
Rick Hinderer
to produce the ZT 056X series of knives. Based on Rick's
XM-18
design (though sized more like an XM-24), the ZT 056X series is wonderful collaboration. It, in fact, won the BladeShow 2011 Collaboration of the Year Award.
I own a Plain Jane ZT 0560 with a stonewashed blade and black G-10 handles. The design will also be available with a black coated blade, a combination of coyote brown G-10 handles, tiger striped blade, and serrations.
(ZT 0560 with TTPocketTools gun blued brass lanyard bead).
Here
is Kai cutlery's info page on the 0560. There are no 560s for sale on Amazon and thus no reviews. [
Editor's Note
:
Here
is a good street price.
Here
is a good video review.
Here
is a good written review from Dan].
Design: 2
It won BladeShow2011 Collaboration of the Year. Not much more needed here. You can see the influence of both Rick Hinderer and Zero Tolerance. Also, all the milling and skeletonizing really bring the weight of the knife down to a featherweight and makes the overall knife very well balanced. [Editor's Note: The blade:handle is .74.]
Fit and Finish: 2
Two words: absolutely amazing! The machining is so well done. I love the texturing on the Ti framelock side and the subdued finish of the Ti has yet to show much wear. The detent is also perfect. The blade came perfectly centered. The stonewashed finish is also executed properly and even after cutting through the harder portion of an aluminum can, there are no scratches that I can see. Just perfect fit and finish for a production folder.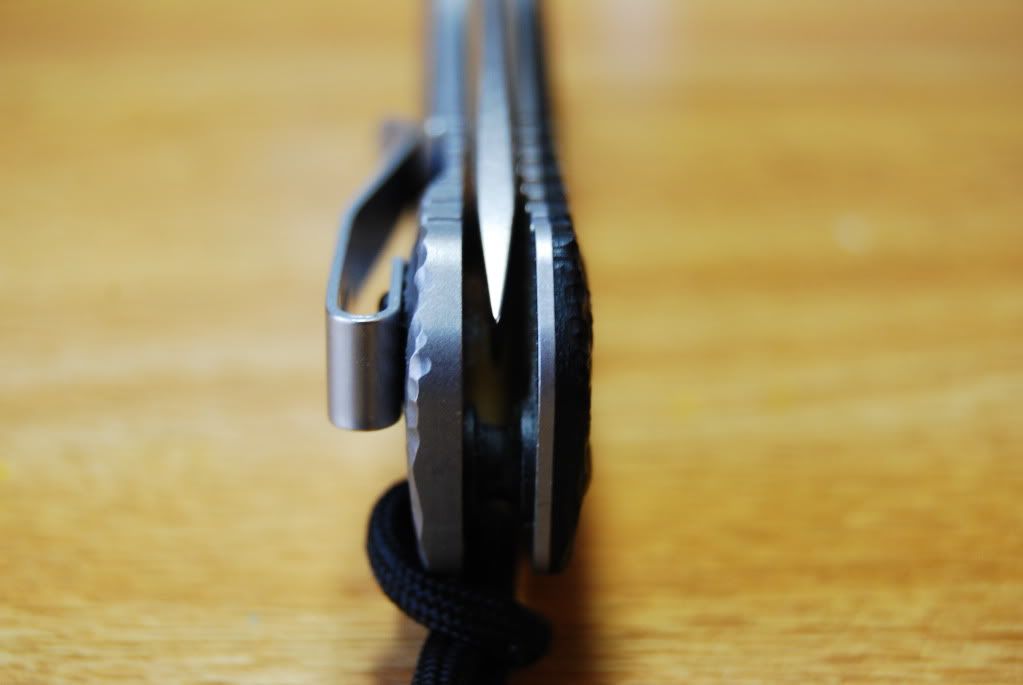 (Centered)
Grip: 2
All the curves and edges of this knife really meld into your hand. I really don't think all the jimping is necessary, but I can see how, with gloves, the jimping is an added plus. Under hard use with no gloves, hot spots can develop. Then again, all folding knives will develop high-pressure areas under hard use with no gloves.
Carry: 1
I would give this a 2. I like big pocketknives because they have a lot of useful belly to use. I carried a
Benchmade 610 Rukus
for years. The deep carry pocket clip does aid in concealing this knife and makes a larger knife much more pocketable. Additionally, with all the milling/skeletonizing, the knife is very light for its size. However, I know a lot of people will just find this knife much too big.
Steel: 2
Elmax
, by Uddeholm, was originally developed as a high compressive strength powder metallurgy mold steel. However, it does have high wear resistance that makes for good knife steel. It is quite an impressive steel and actually rather easy to sharpen. I cut through multiple aluminum cans (even the thicker bottom and top) and found little loss in edge formation. My knife did originally come with a very small nick. It did not hamper performance and was very easy to remove with diamond stones. I absolutely love this steel.
Blade Shape: 2
I would have like the spanto. However, the drop point profile is very nice and aesthetically pleasing. The thumb ramp is also a nice little touch.
Grind: 2
The grinds are very clean, even. Again, I would have liked a spanto grind similar to the Hinderer XM series, but the high ¾ flat grind makes for a wonderful slicer and there is still a substantial tip.
Deployment Method: 2
With the really strong detent, the flipper is the primary method of deployment. The thumbstuds are the bladestop. You can use the studs to flick the knife out, but requires a bit more effort. With Kershaw's Kinetic Velocity Technology (KVT), the knife flips out smooth and quite fast for such a big blade. The bearings housed in the blue polyurethane washer provide for a very smooth and custom-knife-like feel.
Retention Method: 1
While I do really like deep carry pocket clips, I have yet to find maker, custom or production, to execute one correctly (to be fair, the
SOG Flash
does it fantastically, but that's about it, I also don't like SOGs steels/handle materials). The deep pocket clips always seems to flimsy for the knife it's holding (i.e. Benchmade Rukus). It works, but I feel like the clip should be twice as wide to provide a bit more tension, especially for such a large knife.
Lock: 2
The knife has a very good framelock. I've been flipping this knife like a madman and so far the lock has not really recessed much further. I have also done spine-whack tests on it. It failed a couple of times initially, but I believe now the tang and the lockbar face have set. The lock, now, passes the spine-whack test. Even after a little abuse, the lock is still seated at about the same and does not stick.
Overall: 18 out of 20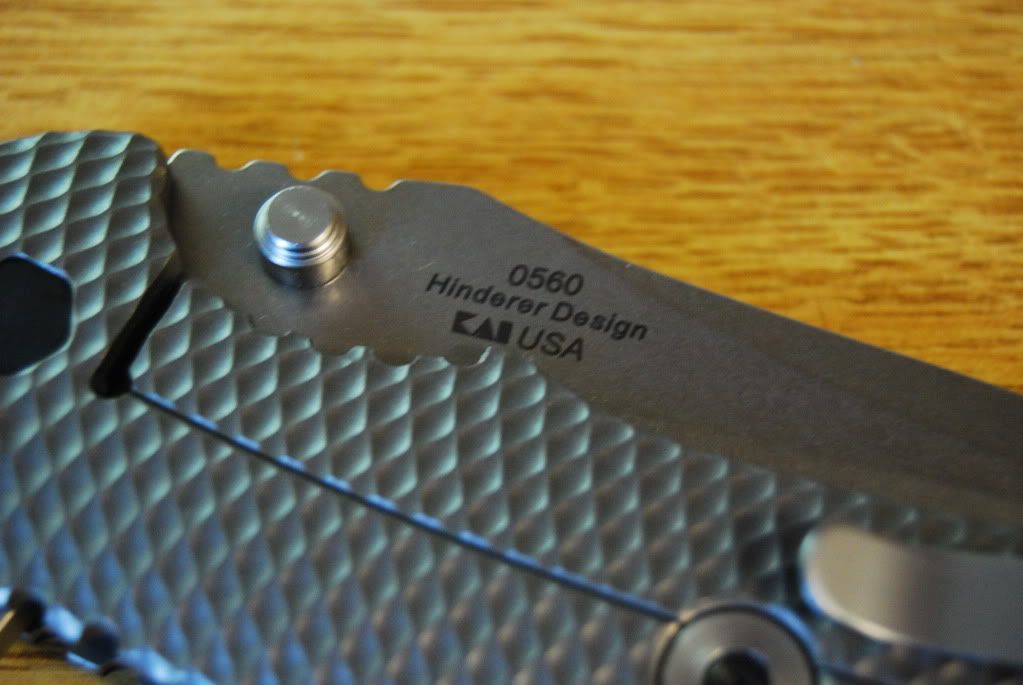 (Ti texturing and laser cut lock)
I absolutely adore this knife. Unfortunately, after carrying the knife for a few weeks, I find the 0560 just a tad bit too big(though that extra length does aid in cutting my overstuffed burrito). Even though I don't mind carrying knives of this size or larger, sometimes, my pockets are only so deep. The size of the 0560 is really much more closer to the size of the Hinderer XM-24 than the XM-18. If ZT made a smaller version that was about the size of the XM-18 3.5, this knife would be perfect. The clip and carry issue would be solved. I will also admit that a little bit of up-and-down bladeplay can be generated because the lock-bar is so long (I can see the bladestop/thumbstuds moving away from the frame and feel the lock bar moving). The Hinderer Lockbar Stabilizer does not do much in preventing the lock bar from going up to high because the lockbar has been laser cut and not milled. There is little room before the lockbar hits the roof of the frame cutout and not the stabilizer itself (in this regard the stabilizer's only task is prevention of overextension which is NOT what Hinderer originally designed it to do). The stabilizer is much more effective in the milled frame cutout version (I believe the first couple hundred of knives were milled, but ZT ultimately decided to laser cut the rest and future runs). Though, with the few downsides, this knife is still a must have. The KVT bearing system is amazing. The fit and finish is amazing. The steel is amazing. Everything about this knife is pretty much spot on (save for size and clip). At a price of $260-325, it is amazing how much bang for your buck you get.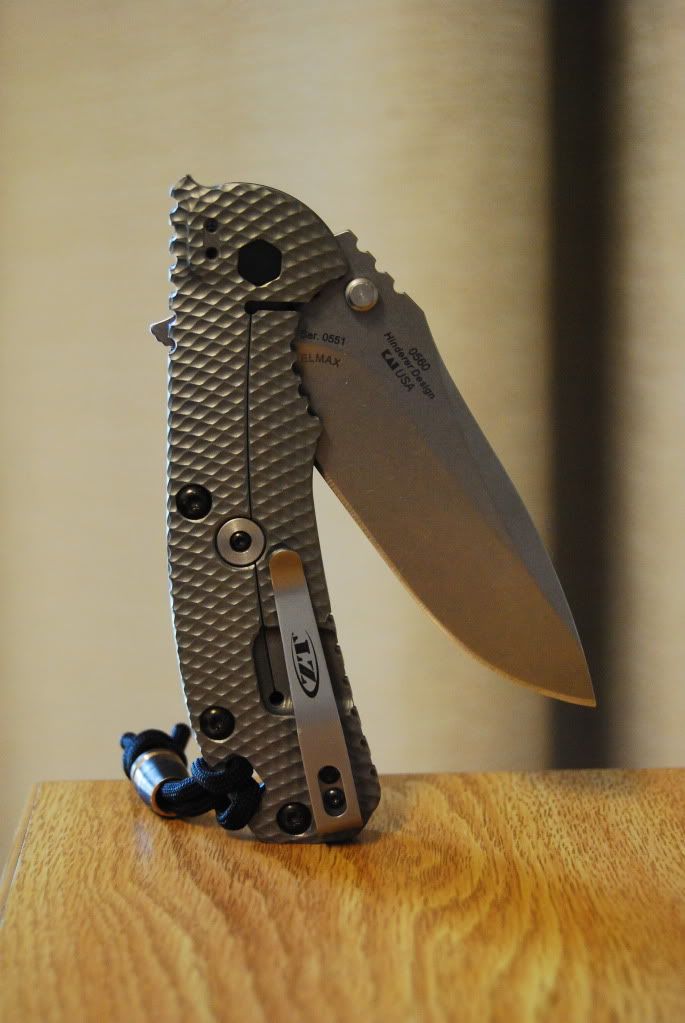 (Added bonus: it can tailstand!)