Michael Walker
may not have
invented the liner lock
, but he certainly perfected. His innovations, I believe, were to add the ball detent (keeping the blade closed) and refining the interface between the lock and the blade. Either way, most give him credit for the modern liner lock. Quite frankly, the liner lock is highly underrated--overlooked in favor of the frame lock or supposedly flimsier than the lock back or other mechanisms. In reality, a well designed liner lock is a great way to stop a blade from closing. It allows for very smooth opening and closing (unlike a lock back) and it is very size and space efficient. Spyderco gave tribute to this fantastic lock by designing its first
Sage
knife around it.
The
Spyderco Michael Walker CF in ZDP-189
shares a lot of traits with the Sage I, but has a few upgrades.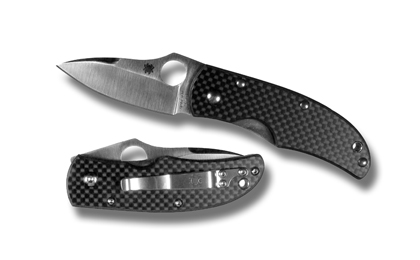 A bit of history, first. The first Michael Walker Spyderco, the
C22
, was originally released about in 1994 and again in 1999 ago without carbon fiber scales and it had an ATS-34 blade as opposed to a ZDP-189 blade. Those two C22 models were produced in Switzerland by
Klotzli
(link is to a Google Translate version of their page which is in German), a high end European maker. Retail on the original C22 was $299.95 and on the 1999 version $455.95, staggeringly high prices for a Spyderco blade. But the design, the steel, and the manufacturing were all among the best in the world at the time, especially for a production knife. Today, these versions of the C22 regularly fetch more than $600 on the secondary market (places like
cuttingedge.com
and eBay). They are both well-made and highly sought after.
And it is easy to see why from a design perspective. The liner lock in the knife is, obviously, well designed, coming from the master himself. The blade is a nice utilitarian shape and a great size (around 2 1/2 inches, the perfect EDC size, in my opinion). Add in all the touches that come with a Klotzli made blade and there is ample reason why this knife was a home run from the outset.
The sprint run recently released by Spyderco was not made by Klotzli. It was, instead, made in Seki City Japan. It has carbon fiber scales, a premium handle material, and a ZDP-189 blade. The heritage from the first knife is still there and it still has among the best materials available making this knife another potential collector's item. I don't think it will rise to the prices of its predecessors, because of where it was made and its initial retail price, but it seems likely to appreciate in value.
Right now, thefind, has them available at a few online retailers for around $100. If I were in the market for a knife, I'd snap one up, based on size and materials alone. At that price, this is a great USER knife. But it has more potential than that. Given the past history with C22 models, this knife just might double its value in ten years.
So in case you missed it, it might be worth tracking one of these down before they disappear only to re-emerge with a much higher price tag in the future.