Cold Steel
sent out their Spring '11 catalog recently and in it, amongst the ridiculous collection of swords, was a small, great looking, inexpensive folding knife--the
Mini Tuff Lite
.
Here
is a street price for it. Apparently the knife will not ship until June, so obviously I have not handled one. But from the specs alone, this could be a great little blade.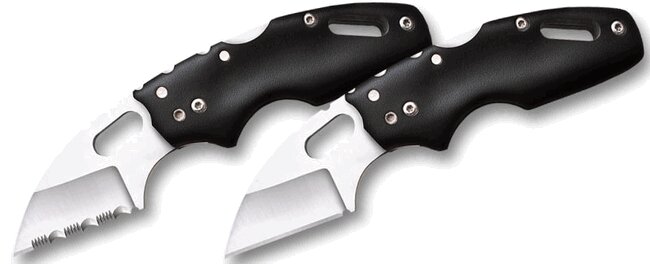 The Mini Tuff Lite is a small knife from a company that is known for their absolutely silly folding knives. They have a number designs that have blades larger than five inches and many designs seem better suited for a slasher movie than actual cutting tasks. Can you imagine breaking down cardboard boxes with this monster, the
Espada Extra Large
? So seeing this comparatively tiny knife in the catalog was exciting.
The design looks very interesting. The blade is a
Wharncliffe
shape, set at an angle to give the knife a bit more piercing power. It weighs in at less than 2 ounces (1.8 to be exact). It also has a deep finger choil and good looking jimping to allow the user to really choke up for good, controlled cuts. Finally, it uses the
Tri-Ad
lock. The knife comes in two configurations (predictably): serrated and non-serrated. I have owned a Cold Steel knife with serrations in the past (a
Recon Tanto I
, from my
mall ninja
phase, please click that link and read, it is hilarious) and they do not hold up well. They cut fine, but even rope can sometimes fell the smaller teeth.
The knife looks to compete squarely with the Dragonfly and the Flash I. It is around the same size, weight, and similar materials. But it is significantly cheaper, around half the price of those two knives. Any time a knife enters this very tight segment of the market, there has to be some notice paid. These are, in my opinion, the perfect size knives for EDC. They give you a lot of utility cutting power for very little weight. They are pretty people friendly. And they aren't going to break the bank, especially the Mini Tuff Lite.
Against the
Dragonfly
, again based on specs alone, we can see that the Mini Tuff Light, loses really only in one place--steel. I don't think there is much debate, VG-10 is a superior steel to AUS8. But the price seems to acknowledge that. Toss in a stronger lock (which I don't really count in a knife this size, I can't see using this tiny blades in any heavy use application) and you have a real competitor. The Dragonfly design, especially now, is so refined that I am sure there are things that it just does better--opening, grip, or wire clip--but still the Mini Tuff Lite is a great first design.
Against the
SOG Flash I
, the Mini Tuff Lite stacks up very well. I find it hard to believe that Cold Steel's Chinese manufacturers can best the meticulous grinds found on even the cheapest SOG knife, but other than that the Mini Tuff Lite probably only loses on deployment speed (as the SOG Flash I is an assisted opening knife), which, in my opinion doesn't matter on an EDC utility blade. The SOG Flash I is also a very slim carrying knife (review coming soon), so that may be an advantage, but the lock on the Mini Tuff Lite is very easy to use (assuming it functions the same way as other Tri Ad designs do) compared to the fiddly Flash I lock. And again, the Mini Tuff Lite wins on price.
This is a super exciting knife, one I might buy just to review. It design, materials, and price make it an instant competitor in one of the most crowded and refined segments in the folding knife market. Combined with a small, simple light such as the
4Sevens MiNi Quark CR123a
, you have a fantastic light&saber combination for under $60 Excellent job from Cold Steel.
Now can we please do something about the terrible catalog? The copy seems like it was written by a 12 year old boy, typos and all. The photography of the products is quite nice, but seriously, the pictures of knife designers make them look like they hate everyone, especially the photographer (except for the one of Lloyd Pendelton, he looks like your grandpa for some reason). Also, I do not need to see Lynn Thompson, or any other man for that matter, in short shorts.