The McGizmo Haiku, with this ringed grip and deeply cut heat sinks strongly echoes the appearance of Luke's lightsaber in Return of the Jedi.
My Haiku:
Luke's Return of the Jedi Lightsaber: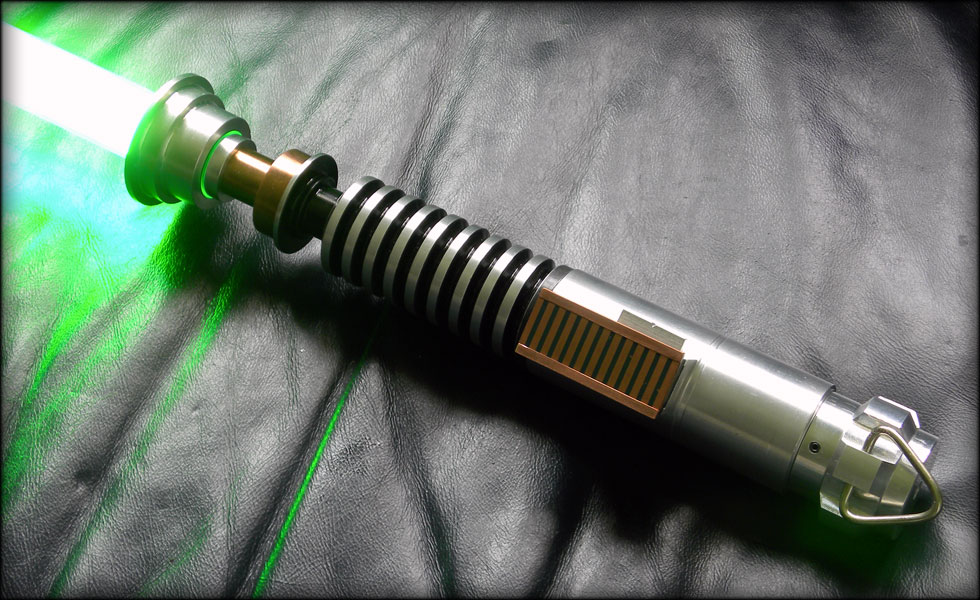 That is only one of the reasons I love this flashlight. Actually, I didn't notice this similarity until I took a picture of my light&saber combination (Haiku and Sebenza), but still, the similar appearance is cool.
For me, the McGizmo Haiku is a grail item. I have been pining after a McGizmo for more than half a decade now and to have one, even after four months, still generates a tingling sensation every once in a while. "It is just a flashlight, dude." Sure, and:
The
Eames Chair
is just a chair…
The
1961 Ferrari GT California
is just a car…
Fallingwater
is just a house…
The
Alexandria 2
is just a speaker…
A
Loveless Drop Point
is just a knife…
There are certain things, certain items, that are so well crafted that they simply exceed their function and become a statement of something else—elegant design, superb function, timeless...whatever you want to call it. For me, the McGizmo Haiku is all of that.
The product category of "luxury flashlight" is new, part of a development in all different kinds of things, of ultra luxe items. Perhaps it is merely another statement of conspicuous consumption. But for me, a well made, well-designed tool like the McGizmo Haiku is a reclamation of an old tradition—something made by a person for a specific task with no compromises, a.k.a. craftsmanship. Things like tools from
Bridge City Tools Works
seem to be made from this same mindset. But unlike craftsmanship in the form of a
Windsor chair
, this is a bit of high tech craftsmanship.
Maybe I am tired, like all those that buy things like
bespoke
suits, of going to the big box store and buying my Widget #1 just like everyone else. Widget #1 works. It does its job. But it doesn't do it well. It gets you by until...it doesn't. In two or three years something on Widget #1 will break and I will have to go back to the big box store and get Widget #2.
The McGizmo Haiku is a flashlight made by a man named Don McLeish. He is a legend among fans of flashlights. His designs, produced in small batches with exceedingly high standards for fit and finish, are sold only through
his threads on Candlepower Forums
. His lights, especially those out of production, routinely appreciate in value. They are also such excellent hosts that aftermarket modifications are very common. The Haiku was his first three mode light (hence the name).
Here
is the product page.
Here
is a very good review on CPF. The light is not cheap. It is $495 plus shipping. But in the end, you will have a piece of exquisite craftsmanship that just happens to do something that is useful everyday.
Design: 2
The light uses Don's main body tube, a single cell 123a
McClickie
(about half way down the OP). It is made of beautifully cut titanium and has a pre-attached titanium pocket clip. The McClickie has a rear clicky that is sunken into a recess to allow the light to tailstand. There are small crenellations around the bezel. The head is the unique part and has deep cut heat sink fins. The clickie is firm and responsive. The light is about 3 ¾ inches long. It is the perfect size and everything about the design evinces a relentless attention to detail.
Fit and Finish: 2
When I received the light there were no flaws whatsoever. There are some minor swirls in the titanium from use now. The parts go together so seamlessly it is as if they are magnetized. There are no gaps or cross threading. The battery tube spring is taut. Every part is made from a best in class material—titanium, sapphire lens, very high grade o-rings. This is it—I own nothing with better fit and finish than this light. Even my Sebenza looks over in envy at the beauty and precision that is the McGizmo Haiku.
Grip: 2
The McClickie body tube is an excellent design with the pocket clip actually enhancing the grip. The narrow portion allows you to use any number of grips and the flared end allows for a good cigar grip. Even without knurling I have never lost my grip on this light. Also, the light is the perfect size. The
Arc6
, which I have also owned, was just too small. The
Surefire 6P
is just a bit too big. This is the Goldilocks sweet spot.
Carry: 2
My first $100+ light was a fully decked out Nitecore EX10, seen here:
It was great, until the clip popped off. Over and over again. Here, the McClickie body allows for great retention, the clip is very strong. The fact that it is installed at the factory gives me more confidence than the fiddly clip from Nitecore. The body is a little thicker, because of the more robust tube walls, but it is not that big a deal.
Output: 2
Don's numbers say this light's high is 138 lumens or something like that. I have compared it to my Surefires that are rated at 200 lumens and there is no real difference. The low is a single digit lumen count and does not disrupt my night vision. The medium is a perfect "work bright" amount of light. The output is more than enough on high, not too much on low, and well spaced. I could not have designed a better output from an EDC light if I were setting the amounts myself.
Runtime: 2
Runtime is as follows (to 50%, noting regulation limitations on Med and Low, see Don's runtime graphs): High: 1 hour; Med: about 3.6 hours; Lo: about 27 hours. Again, I can't ask for a better balance between lumens and runtime. I like my 40 hours on the Muyshondt Aeon, but that is a unique light as well. Still 27 hours isn't anything to sneeze at, especially in an EDC light with a max of 138 lumens.
Beam Type: 2
As one of the reviewers noted, this beam is a "floody throw" and though that doesn't make much sense conceptually, go out and use the Haiku in a big open space and you will see the beam type is "floody throw". I have a few throwy lights and a few floody lights, but this is the nicest combination of the two I have ever seen or used. A perfect beam. This is really what sets this light apart from all others, especially production lights. This beam is like nothing I have ever seen. Amazing.
Beam Quality: 2
Perfect diffusion from hotspot to spill, perfect concentric profile, no artifacts or rings or holes. Perfect.
UI: 2
Here is the entire manual on the Haiku's UI:
Click once for on at last level, click again for next level, click again for final level. Cycle order: Low→Medium→High. Done.
No twisting heads or clicks and holds. Just three levels, perfectly spaced on the lumens scale, two clicks away. The last level memory is very nice. If you prefer to start out bright you can, if you prefer to save your night vision, no problem. The UI is so simple it is staggering that there is nothing else out there like it.
Hands Free: 2
The light's antiroll feature comes from the clip and the deep well for the clickie allows for perfect tailstanding and a great deal of stability. The heat sinks do an excellent job of dissipating heat and mine has run for 40-45 minutes without getting too hot. Also, the quality and type of beam makes for excellent ceiling bounces.
Total Score: 20/20
This is a no-brainer. I honestly believe there is no finer EDC light in the world than the McGizmo Haiku. It does everything perfectly. There are more expensive lights out there, like the
Cool Fall 007
or the
Cool Fall 007 Tri-V
, but there is nothing better than the Haiku. I look forward to comparing it to a
Mac's Custom Tri EDC
as soon as I can get one.